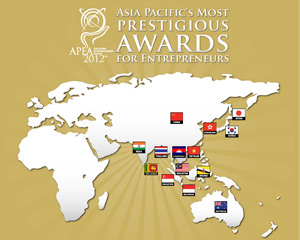 Download: [ PDF ]
FOR IMMEDIATE PRESS RELEASE
Enterprise Asia is proud to announce the start of this year's search for outstanding Asian Entrepreneurs at http://www.APEA.asia. The Asia Pacific Entrepreneurship Awards (APEA) is a prestigious annual award recognizing business leaders for outstanding entrepreneurship. The award goes from city to city around Asia, selecting the year's top Entrepreneurs. Winners from each city are then invited to the Asia Pacific Entrepreneurship Forum (APEA ‐‐ http://www.APEF.asia), featuring high‐level roundtables for delegates to connect, share experience and knowledge, as well as engage in dialogues identifying regional challenges and opportunities to lead Asia in its entrepreneurship agenda. This year, APEF will be held in Qingdao, China in October. "BY ENTREPRENEURS FOR ENTREPRENEURS" is a guiding philosophy for Enterprise Asia, and the outputs from the APEF will have a lasting impact in Asia for years to come.
"As a non‐governmental organization from Asia for Asia, DotAsia is delighted to be working with Enterprise Asia on the APEA (http://www.APEA.asia) and APEF (http://www.APEF.asia). One of DotAsia's goals is to offer a strong online identity for Asian entrepreneurs globally. We are excited about the synergies with Enterprise Asia in championing entrepreneurship development in Asia," said Edmon Chung, CEO of DotAsia. "Harnessing the Internet is indispensable for entrepreneurs. Building a strong brand online is equally important. We are enthusiastic with top Asian entrepreneurs joining the '.Asia' movement."
William Ng, President of Enterprise Asia mentioned, "An official website can serve as a resource hub, and a connecting link between various business leaders from all over the region and the world. During the last few months, the website has grown in its functionality. The official website APEF.asia now boasts a dedicated forum for promotion of dialogues, interaction and contribution. We are embracing technology now as much as it is embracing us without us knowing. This partnership with DotAsia gives is this unique opportunity to start promoting the site again with an Asian angle. I urge you all to log on to the site to get more details and be engaged in the forum".
William Ng continued, "This award gives us the chance to identify the crème de le crème of up and coming entrepreneurs and give them the awesome platform to showcase themselves for everyone to take notice of."
Contact:
About Enterprise Asia
Enterprise Asia is a non‐governmental think tank for the development of entrepreneurship across the region and in the promotion of opportunities and fair ground rules for emerging entrepreneurs. We champion honest, fair and responsible entrepreneurship across Asia. We believe that the true foundation of any nation's economy lies in its entrepreneurial resources; which if properly nurtured can be the most potent asset for sustainable and predictable economic planning. With entrepreneurial spirit ingrained within a country's culture, numerous social and economic issues, including urban poverty, urban‐rural income disparity, inter‐racial and inter‐culture conflicts, labour exploitation and economic slavery can be diminished and eventually eradicated.
We work with governments, NGOs and other organizations to promote competitiveness and entrepreneurial development, in uplifting the economic status of people across Asia and in ensuring a legacy of hope, innovation and courage for our children. For more information, visit www.enterpriseasia.org.
About DotAsia Organisation
DotAsia Organisation (http://www.registry.asia) is a not‐for‐profit corporation with a mission to promote Internet development and adoption in Asia. The organization oversees the '.Asia' top‐level Internet domain name, and is formed as an open consortium of 20 official top‐level‐domain authorities around the region, including .CN (China), .JP (Japan), .KR (Korea), .IN (India), .NZ (New Zealand), .PH (Philippines), etc., and 5 regional Internet organizations including APNIC, APNG, APCERT, PAN and APTLD. Asia has developed into a global force in the international commercial, political and cultural network. The .Asia domain aspires to embrace this dynamism in the Asia Century to become a nucleus, intersection and breeding ground for Internet activity and development in the region.