HKFilm100.Asia Launches as Online Collective Memory Platform with Support from IFACT-GC, HKIFF, HKAFF, Infinito Education Studio and Movie Producers & Distributors Association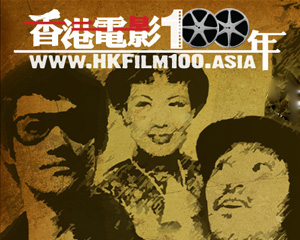 19 February 2009, Hong Kong – DotAsia announces joint initiative with RTHK to celebrate 100 years of Hong Kong films. Events include art exhibitions, celebratory ceremonies, movie screening of Hong Kong film classics as well as related contests. HKFilm100.Asia (http://www.hkfilm100.asia) will launch to archive commemorative activities large and small, as well as serve as an online platform for a collective memory of Hong Kong's film culture.
A hundred years ago, the Lai brothers (Lai Bak Hoi 黎北海, and Lai Man Wai 黎民偉) made the first films in Hong Kong, opening the curtains to Hong Kong's remarkable film industry. Through the occupation period and the joyous post-war era, the Hong Kong film industry has continued to grow and evolve. 2009 marks 100 years of film making in Hong Kong. As we look back on our century of achievements, 2009 will also be remembered as a year to look ahead to New Action for Hong Kong films.
"Hong Kong is known as Hollywood East. This reputation is not only well deserved it is a culture worth celebrating for. DotAsia is proud to help lead the effort to support a series of events to celebrate 100 years of film in Hong Kong," says Edmon Chung, CEO of DotAsia Organization. "Hong Kong films have always attracted a following around Asia and the genres pioneered by the Hong Kong film creators continue to leave significant mark on films produced in Asia and around the world. Therefore, we believe the festivities are not only for Hong Kong. With the launch of HKFilm100.Asia, we are inviting everyone around the world to share their memories and thoughts about Hong Kong films."
"In the past 100 years, Hong Kong's film industry created numerous job opportunities, great entertainment and laughter for the people, it also allowed the world to get to know Hong Kong better. This initiative led by DotAsia will bring back great memories of Hong Kong films, and we believe it will also let people understand the importance of supporting anti-piracy efforts to secure another 100 years of glamour and beyond for Hong Kong's film industry."
HKFilm100.Asia (http://www.hkfilm100.asia) is an open online platform that aims to build a collective memory of Hong Kong film fans on the celebration for 100 years of film in Hong Kong. Besides being an archive of memorabilia through public participation, the website will also feature video clips of exclusive interviews produced by RTHK, as well as footage and live broadcast of events happening. The series of events and the online platform is also strongly supported by IFACT-GC ( International Federation Against Copyright Theft – Greater China) Hong Kong International Film Festival Society (HKIFFS) , Hong Kong Asian Film Festival Society (HKAFF – www.hkaff.asia), Infinito Education Studio of Hong Kong and Movie Producers & Distributors Association (MPDA).
The launch of the platform is an open invitation to anyone wishing to share their thoughts and to provide support to anyone planning to organize events related to the celebration of Hong Kong Film 100 Years. If you have any memory about Hong Kong films to share, be it an old movie ticket, movie poster, random thoughts or your own video or remix of old Hong Kong movies, post it to the forum at http://www.hkfilm100.asia so that fans around the world can see. If you are planning an event to celebrate Hong Kong Film 100 Years, feel free to contact us through our website too, or email to: events@hkfilm100.asia.
About DotAsia Organisation
DotAsia Organisation is a regional not-for-profit organization headquartered in Hong Kong with a mission to promote Internet development and adoption around Asia. DotAsia oversees the '.Asia' top-level Internet domain name, and is formed as an open membership consortium of official domain authorities around the region, including .CN (China), .JP (Japan), .KR (Korea), .IN (India), .NZ (New Zealand), .PH (Philippines), etc., and regional Internet organizations including APNIC, APNG, APCERT, PAN and APTLD. DotAsia has a core mandate towards digital inclusion, education and research and development. Since the launch of the ".Asia" registry in March 2008, DotAsia has been proactively contributing to the Internet and cultural community in Hong Kong as Asia's world city. Today, DotAsia is already supporting 8 major community projects: Relief.Asia, ISIF.Asia (R&D Grants Fund), CreativeCommons.Asia, OLPC.Asia (One-Laptop-Per-Child Initiative in Asia), OpenR.Asia (Open source registry platform), DSF.Asia (Digital Solidarity Fund), OSS.Asia (Open Source Software consortium), and NetMission.Asia (volunteer program & network).
DotAsia is also actively contributing to different initiatives in the entertainment industry, including the launching of the .Asia Celebrity Pioneer Program, partnering with IFACT-GC on protecting intellectual property rights, CJ7cares.Asia, AndyHuiCares.Asia, as well as supporting the Hong Kong Asian Film Festival (HKAFF.Asia) and the Hong Kong International Film Festival (HKIFFshop.Asia).
For more information, please contact Aaron Lai
Mobile: 6331 8608 or Fax to 3520 2634
Email: aaron@enmass.asia