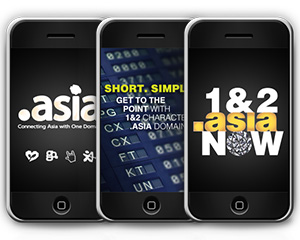 HONG KONG, Oct 16, 2013 – DotAsia, the organization which oversees '.asia' internet addresses, is for the first time releasing single and double character domain names.
Rights holders and interested parties can benefit from priority access to register these valuable, premium domains.
Edmon Chung, DotAsia's chief executive officer, said: "One and two-character domain names, such as 'T.asia' or 'UV.asia', are easy to spell, easy to remember, quickly shared and ideal for mobility. Not only are they short and compelling, they also contain a keyword and geographical label, increasing the chances of being found by people and search engines alike."
In a region where people commonly use English acronyms and short forms, the new DotAsia internet addresses offer a short and memorable brand identifier for global firms. Furthermore, the one and two character domain names enable international brands to safeguard their brand identities in the world's most populous and fastest growing region.
Keen to consolidate and extend their Asian presence, a number of organizations have already applied for the prized domains. One such organization is HR Asia, the region's most authoritative publication for HR professionals.
William Ng, Founder of HR Asia, said: "HR Asia is aimed at the new breed of dynamic, mobile HR professionals increasingly prevalent in the profession. As the region's top HR publication, we leapt at the chance to own the HR.asia domain name, which is closely aligned with our brand but also gives us a simpler, more memorable and effective route for reaching existing and potential readers."
Businesses wishing to register their interest in a one or two character '.asia' domain name should visit www.1.asia .
As a not-for-profit organization, DotAsia strives to play a part in advancing Asia's digital future with the proceeds from every '.asia' address registered. DotAsia proactively contributes to, and participates in, regional projects that bridge the digital divide and promote digital equality, such as One Laptop Per Child (www.OLPC.asia) and NetMission (www.NetMission.asia).