.Asia is open to individuals, businesses and organizations around the world!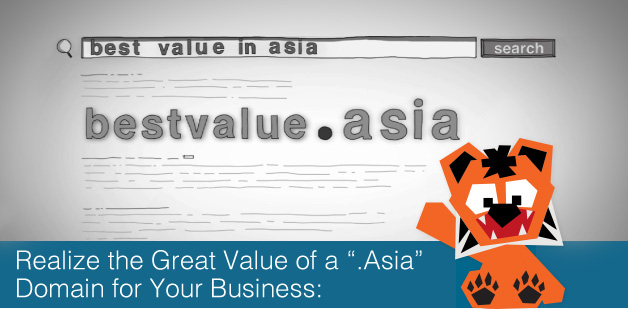 Connect with the

Largest Internet Marketplace

with one domain:

A .Asia domain gives you a foothold across the China, India, Japan, Korea and South East Asia markets.
Turn your business Instantly into an

Asia-Friendly Name

:

Your domain is your identity online. A .Asia domain can make a difference for you here in Asia, where relationships mean business.
Support

Internet development and access

in Asia:

Every .Asia registration helps fund community and charitable works in Asia. Do well and do good with every .Asia domain.

If you are an ICANN accredited registrar you can become a .Asia accredited registrar. Get firsthand access to registry promo prices, innovative marketing collateral and assistance in reaching and navigating the Asia domain market. Get accredited to become part of the .Asia family today.

DotAsia announced today the release of, never before registered, 1&2 character and 3&4 numeric .Asia domains. Premium domains such as 8.asia, 28.asia, and X.asia, will be available for registration based on a multi-phase release plan starting from July 30th, 2013, while 3&4 numeric domains such as 2013.asia, 888.asia, and 777.asia will be up for grabs through auctions starting August 2013.
read more