.Asia Sunrise Party in Tokyo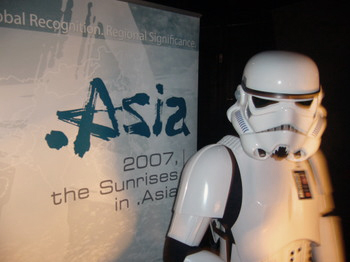 Going hand in hand with our mission, before going Live (first-come-first-serve registration) on March 26, 2008, DotAsia successfully completed the Sunrise and Landrush periods from October 9, 2007 to March 12, 2008. The Sunrise Period offers priority for companies and government bodies with rights to secure their .Asia names. With more than 37,000 applications received, over 95% success rate and a remarkable record of 0 disputes, it proved to be a successful process that resulted in an orderly and stable introduction of the ".Asia" domain into the social and technical fabric of the global Internet. Starting right after the 2008 Chinese Lunar New Year, the 3-week Landrush period was well-received and supported by registrars and registrants worldwide. Receiving nearly 500,000 applications, about 40,000 .Asia names with multiple applications are put into auction which ran from April to July of 2008.
Prior to the beginning of Sunrise, DotAsia had gone through an extensive 6-month process of compiling Government Reserved Names with ICANN GAC Members in Asia as well as ccTLD operators in the region. DotAsia also worked with top global brands, community interest groups, celebrities, NGOs, registrars and other partners on a Pioneer Domains Program that further expanded the adoption and awareness of .Asia.

The Sunrise and Landrush of DotAsia was different from any other first-come-first-serve TLD launches heretofore. By adopting an innovative auction mechanism to resolve contentions for domains during the Sunrise and Landrush process, along with dedication and hardwork in engaging the community in an extensive and open policy development process, it proved to be a more fair, calm and orderly process with everyone getting an equitable chance for a valuable .Asia cyber real estate. DotAsia believes, and results have demonstrated that it also ensures a better foundation of usage of the .Asia TLD.