Sponsor Community Project (SCP) Funds
Background
DotAsia is committed to its mandate of promoting Internet development and adoption in the Asia Pacific community.  To dedicate a portion of the proceeds from .Asia domain registry operations directly for community projects, the Sponsor Community Project (SCP) process (.pdf) was put in place and structured to foster partnership with Sponsor Members in supporting the vision and mission of DotAsia.  See DotAsia Membership Roles & Responsibilities.
SCP Funds
SCP Funds are accrued for each regular .Asia domain registration and renewal (i.e. promotional registrations not included) for which the associated Registrant corresponds with a DotAsia Sponsor Member cc-locality (the country and/or territory represented by the corresponding ccTLD).  Available SCP funds are reported annually to Sponsor Members (end of year: Dec 31) and available upon request.  The SCP funds are not benefits to Members, but rather, DotAsia Members are tasked to identify meaningful community projects within their cc-locality for which the SCP funds may apply towards.  Accumulated funds expire after four years, and will be allocated to support other DotAsia community contributions.  See Community Projects supported by DotAsia.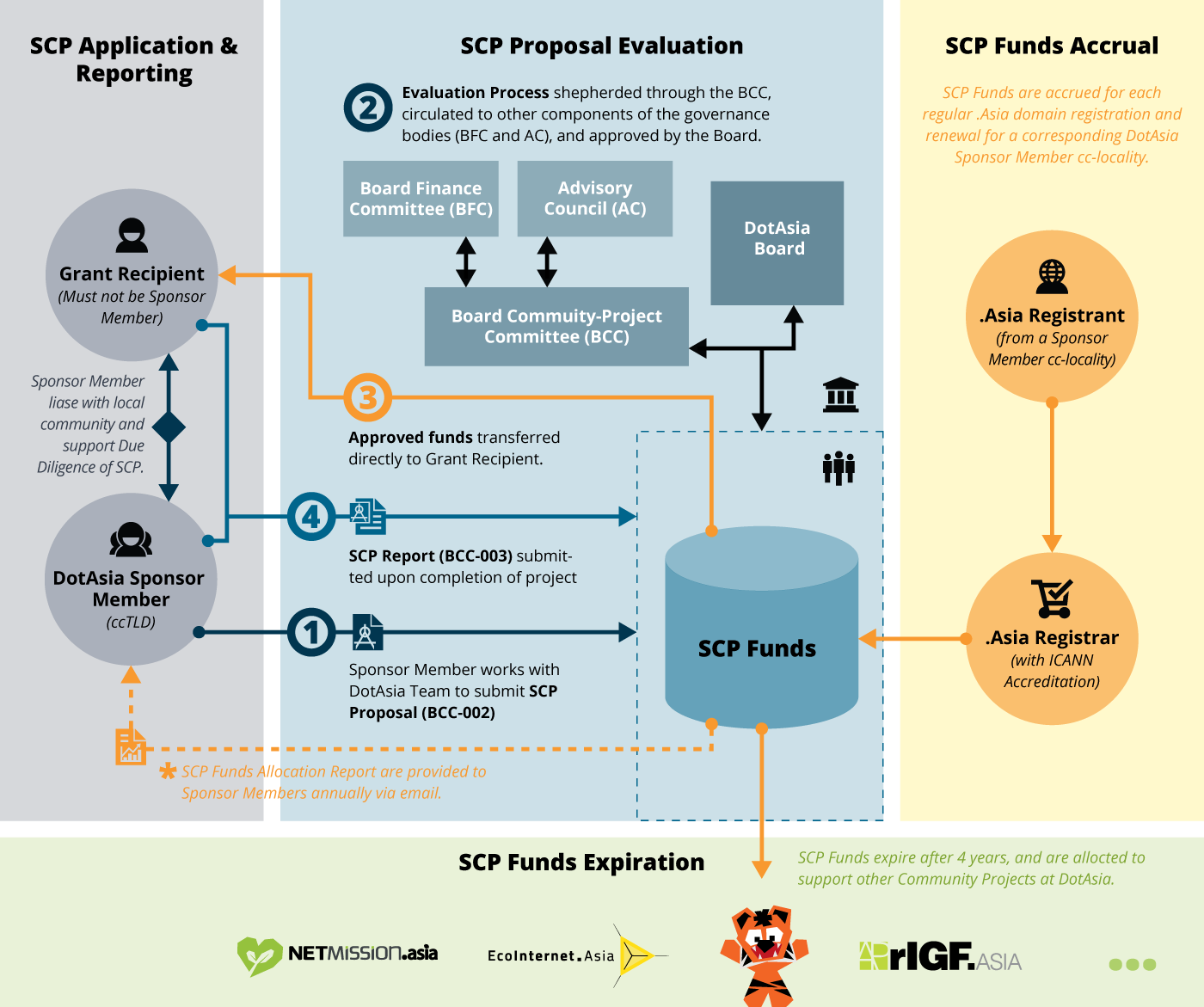 cc-Locality

Date

Project Name

Grant Recipient

Funds Allocated (USD)

.sg

2009.05

11th APNG Camp

Nanyang Technological University
National University of Singapore

$5,200

.jp

2010.06

APrIGF 2010

Organising Committee of APrIGF

$3,000

.nz

2010.08

Pacific IGF

Pacific Internet Partnership (PIP)

$20,000

.sg

2011.01

13th APNG Camp

Banjamin Zee

$2,620

.nz

2011.08

Internet Industry Awards

Liz Dengate Thrush Foundation

$10,000

.sg

2012.05

15th APNG

Siti Rabi'atul 'Adawiyah Binte Hairy
Yong Jia Jie

$5,460

.cn

2013.03

ICANN Meeting Beijing

Beijing Shuang-lian Integrated Marketing

$50,000

.th

2017.10

THNG Camp

Asian Institute of Technology

$15,000

.id

2018.09

8th IGF Bali

IGF Bali

$12,000

.ph

2020.09

Center for Positive Future

$7,995

.kr

2021.07

Korea Internet Governance Alliance (KIGA)

$5,000

.th

2023.05

Thailand Research Education Network Association (ThaiREN)

$20,000

.tw

In progress

Cyber Defense Network Project

Taiwan Digital Diplomacy Association

$9,634
Event Info: January 10, 2023 (Tue)
Time: 04:00 UTC (30 minutes)
Speaker: Edmon Chung, CEO for DotAsia Organisation
In this webinar, DotAsia's CEO Edmon Chung will tell you about the DotAsia Sponsor Community Project (SCP) Funds, explain who may be eligible and how Sponsor Members of DotAsia can help initiatives that promote Internet development within their cc-locality to apply for the SCP Funds. Join us on January 10, 2023 (Tue) at 04:00 UTC to learn more.