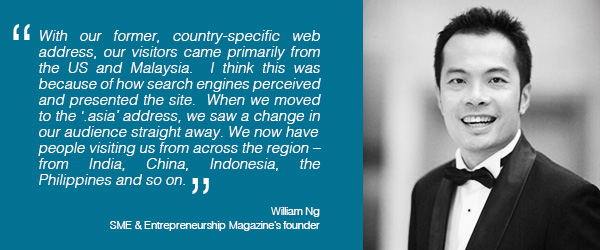 Business Media International
(SME & Entrepreneurship Magazine and SME100)
Name of organization: Business Media International
Type of business: Publisher and events organiser
Web addresses: SMEmagazine.asia and SME100.asia
Major benefit of '.asia' domain name
Provided a platform for expansion across the region
Helped to attract an Asian audience – valuable to the magazine's advertisers and necessary for the success of events
Provided a short, memorable web address
A suitable home for a regional brand
SME & Entrepreneurship Magazine is Southeast Asia's best-selling business magazine.  Published in Singapore, Malaysia, Indonesia and Brunei, the periodical has a circulation across the region of 105,000.  It aims to provide business owners across the region with all the news, insights and analyses they need to drive their companies forward.
At first only published in Malaysia, the magazine initially had a country-specific internet address but when it looked to move into other markets, it questioned whether a range of domain names was really the best approach. 
William Ng, SME & Entrepreneurship Magazine's founder, said: "We had plans from the beginning to move the magazine and our business beyond the shores of Malaysia. With our expansion into Singapore and Indonesia, we realised that we could be setting ourselves up for unnecessary administration and tedium if we had to open and manage an internet domain each time we went somewhere new.  The '.asia' domain removed this headache and provided us with a long-term home for the title. It also better reflected our desire to be an Asian brand rather than tied to any particular territory."
Fostering a loyal audience across Asia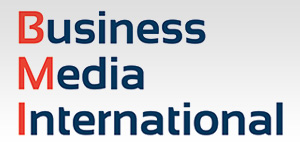 SME & Entrepreneurship Magazine's move to a '.asia' domain brought immediate results as the profile of the site's visitors changed to be more representative of the demographic it was targeting.
Mr Ng explained: "With our former, country-specific web address, our visitors came primarily from the US and Malaysia.  I think this was because of how search engines perceived and presented the site.  When we moved to the '.asia' address, we saw a change in our audience straight away. We now have people visiting us from across the region – from India, China, Indonesia, the Philippines and so on." 
He continued: "It's vital that we can bring people from all over Asia closer to our magazine. 
Along with the quality of the magazine's editorial, our business thrives on fostering a loyal audience of entrepreneurs that is attractive to advertisers."
A regional platform for extending the brand
The achievements of the magazine have provided a solid foundation for expanding the business's activities into other areas.  In [year] SME & Entrepreneurship Magazine launched SME100, an annual awards programme that recognises and rewards Malaysia's most successful small and medium enterprises.
 When it came to choosing SME100's internet home, the decision was a straightforward one.
Mr Ng said: "We are the largest business-to-business media group in Asia. Having a regional domain is an essential part of our branding, positioning and identity. A simple web address and the '.asia' domain make it easy for people to remember where to find us."