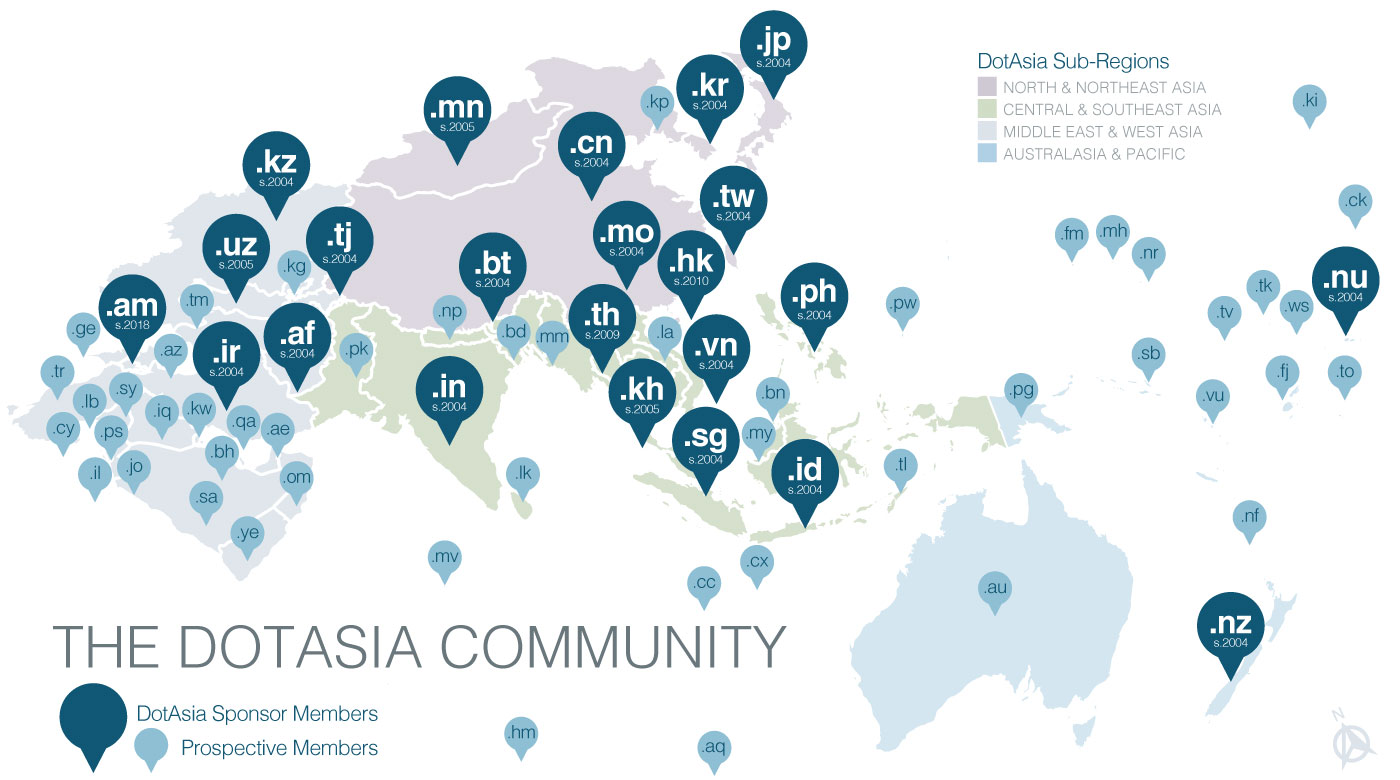 DotAsia Community & Membership
DotAsia is a community-based bottom-up initiative, with a membership-based not-for-profit organisation structure. There are 2 types of members defined:
1. Sponsor Members
Sponsor Members shall be organisations in the Pan-Asia and Asia-Pacific region, as defined by ICANN's Asia / Australia / Pacific Region (based on the ICANN Region definitions) that manage and operate any of the country code Top Level Domain (ccTLD) registries in the region.
2. Co-Sponsor Members
Co-Sponsor Members shall be regional-based Internet, Information Technology, Telecommunications, non-profit, NGO or other relevant community organizations in the Pan-Asia and Asia-Pacific region.
The boundaries of the DotAsia community are defined based on the ICANN Asia / Australia / Pacific region (http://www.icann.org/montreal/geo-regions-topic.htm), within an inclusive approach in mind. To ensure that the Board of Directors is relevant and representative of the multicultural Pan-Asia and Asia-Pacific region, geographical diversity will be an important criterion for the selection of the Directors. This geographical diversity requirement will be enforced and at least one individual from each of the 4 Sub-Regions will be represented on the Board.
The DotAsia Sub-Regions are defined as the following 4 Areas: 1. North & Northeast Asia; 2. South & Southeast Asia; 3. Middle East & West Asia; and, 4. Australasia & Pacific. The included economies and countries along with the corresponding categorization are based on the following 3 sources:
DotAsia membership remains open to new members. Members value contributing to the governance of the .Asia Sponsored gTLD registry as a key benefit. All Sponsor Members or Co-Sponsor Members enjoy the same benefits and are treated equally no matter when they join, so eligible organisations may join the initiative at their own pace.
As DotAsia continues its outreach to recruit members from the region, these efforts will also help further the community mandate of the organisation as well as to help bring local constituencies into the regional and international Internet community and forums.
DotAsia Board of Directors
The Board of Directors of DotAsia is made up of a maximum of 11 members: 8 seats returned by Sponsor Members, 2 seats returned by Co-Sponsor Members, and 1 seat for the CEO appointed by the Board. Each elected member serves for 2-year terms and are eligible for re-election. While the nomination and voting of the Board elections are through organizational members, all Board members serve on the DotAsia board in their personal capacity and on a volunteer basis.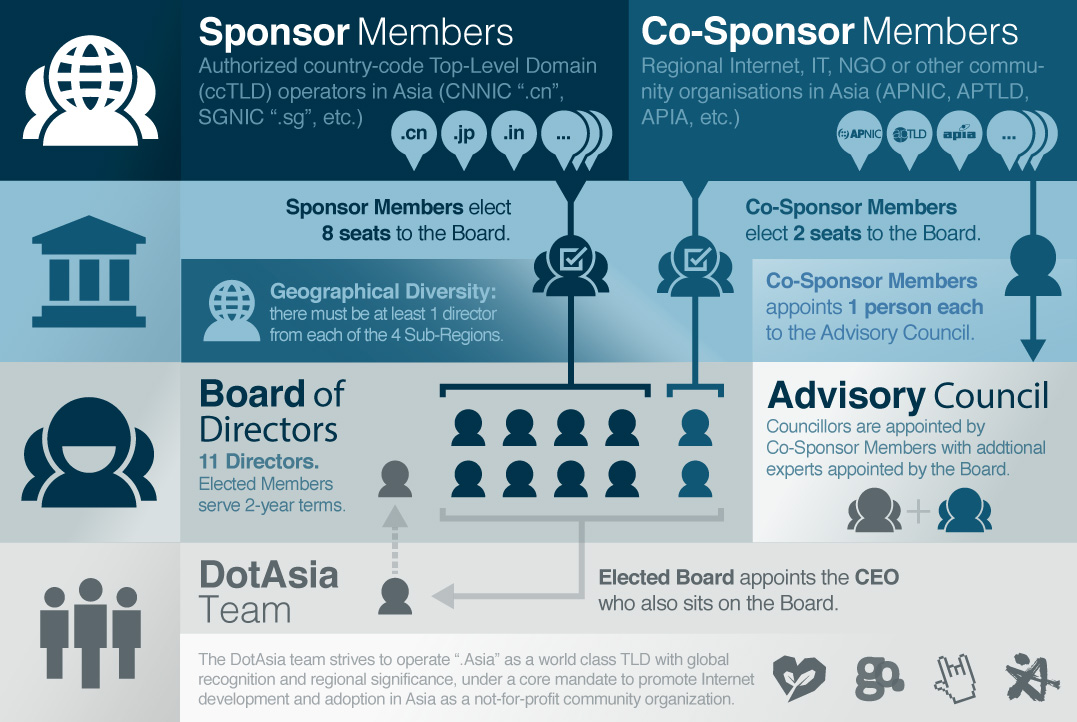 The Board of Directors oversee the governance of the organization and are advised on policy matters by an [Advisory Council] populated by one representative from each Co-Sponsor Members along with other industry and community experts in the region.
The direct and close involvement of many regional ccTLDs ensures a wealth of knowledge and expertise in the operational and policy management of a TLD registry in the Pan-Asia and Asia-Pacific region. Furthermore, representation in governance from successful Asia-Pacific Internet and Information Technology groups, provides broad representation and relevance from the Pan-Asia and Asia-Pacific community. Together they create a well-balanced governance structure that forms a solid foundation for a successful TLD registry for Asia.
Current Board Members

Edmon CHUNG (SOI) is serving as the CEO for DotAsia Organisation and heads the secretariat for the Asia Pacific Regional Internet Governance Forum (APrIGF). Edmon currently Co-Chairs the ICANN Joint ccNSO/GNSO IDN Working Group (JIG) and participates extensively on Internet governance issues.
Edmon is an inventor of patents underlying technologies for internationalized domain names (IDN) and email addresses on the Internet. Edmon has served on many global IDN related committees, including technical and policy groups, that made it possible for the introduction of multilingual domain names and email addresses on the Internet. Edmon founded Neteka Inc. in partnership with the University of Toronto Innovations Foundation in 1999, and went on to win the Most Innovative Award in the Chinese Canadian Entrepreneurship Award in 2001. In 2000, Edmon was selected by The Globe and Mail as one of the Young Canadian Leaders. Between 2007 and 2010, Edmon served as an elected member on the ICANN GNSO Council. Between 2010 and 2012, Edmon served as an elected member on the ICANN At-Large Advisory Committee (ALAC) from the Asia Pacific Region. Between 2006 and 2011, Edmon served as an elected member of the Elections Committee of the Hong Kong Special Administrative Region in the Information Technology Subsector.
Edmon has a Bachelor of Applied Science and Master of Engineering from the University of Toronto.
Satish BABU

Satish BABU (SOI) is a Free Software activist, early Internet advocate and development professional based out of Kerala, India. He is the founding Director of the International Centre for Free and Open Source Software (ICFOSS), an autonomous academic/research institution of the Government of Kerala, India, where he worked from March 2011 to September 2015. He was earlier the CEO of SIFFS, a co-founder and President of InApp Information Technologies, and is associated with national and international professional societies such as IEEE, Internet Society (ISOC), ICANN, and the Computer Society of India (CSI).
Satish has been active in Internet Governance since the 2009 IGF. He was a Fellow of the 2012 European Summer School in Internet Governance (EuroSSIG). He is associated with ICANN since 2012 and with ISOC as a member since 2009. He was appointed the Interim Chair of the Asian, Australasian and Pacific Islands Regional At-Large Organization (APRALO) of ICANN in Sep 2016, and elected as Chair in Nov 2016.

Joel Disini is the CEO of DotPH, the domain registry for the Philippines.
Mr. Disini is a member of the Tau Beta Pi Honor Society/Caltech, and of Mensa. He has a BS Electrical Engineering from the California Institute of Technology.
Joel Disini was previously involved in Silicon Valley in different networking and communications related fields. He worked for five years in the late 80s writing Macintosh Software for Tri-Data Systems in Sunnyvale, CA. After 9 years in the US, he moved to the Philippines in 1989.
In 1990, he formed the Philippines' first Internet Service Provider. His product – The Netway 1000 SNA/Bisyn Gateway – was named MacUser Editor's Choice for best Networking and Communications Product.

Atsushi ENDO (SOI) has served as the Board of Director of DotAsia Organisation since 2006. He has been with Japan Registry Services Co., Ltd (JPRS), the .jp ccTLD registry since 2001. His primary responsibilities at JPRS include corporate planning, external affairs, and public relations of JPRS.
Atsushi served as the co-chair of AP* Retreat Meeting in Tokyo held in January 2006. He has also been involved in "Internet Next Generation" activities in Asia Pacific Region including his role as the of vice-chair of 5th Asia Pacific Next Generation Camp, which was hosted by Asia Pacific Networking Group (APNG) in 2004.
Atsushi graduated from Sophia University,Tokyo with a B.A. in Law and holds a M.A. in Political Science from Keio University Graduate School of Law, Tokyo.

Lianna GALSTYAN (SOI)
currently is the External Relations Manager at the Internet Society of Armenia, manager of the Armenian ccTLD .AM. She has served there as a Board Member since 2012. She is active in policy-making processes for the Armenian ccTLD and had a leading role in launching the Armenian IDN ccTLD in 2015.
Lianna also represents the organisation in ICANN as a certified At-Large Structure since 2012 and is the Vice Chair of the Asia-Pacific Regional At-Large Organisation. She is an active member of the Internet Society since 2000; is currently a member of the Chapter Advisory Council representing the Armenian Chapter.
Before taking on her present responsibilities, she had a leadership role in the leading Registrar company in Armenia for around 15 years, working in close relations with the end-users.
Lianna is very active in Internet Governance ecosystem. Currently she serves her second term as a MAG member for the global IGF; is a member of the Executive Committee of the South Eastern European IGF (SEEDIG); coordinates the Secretariat work on behalf of the Armenia IGF.
Lianna has initiated the establishment of the Armenian School on Internet Governance (ArmSIG) for students from Armenia and successfully ran two editions of it. For 2019, she works on launching a joint IG School with partners from neighboring country Georgia.
Lianna is an alumna of the ICANN's Fellowship Program and the Internet Society IGF Ambassador program.

Maureen Hilyard's (SOI) former career was in primary teaching which led to moving to the NZ Correspondence School (TCS) in 1989. She started at a time when the internet was first being introduced to connect distance learners with their teachers, based at the school in Wellington. Her role as a Regional Representative based in Auckland was to introduce distance learners – from preschool to adults, including people with disabilities – to the "virtual classroom". After 15 years with TCS, Maureen moved to the Cook Islands Ministry of Education in 2004 as a distance learning facilitator. This required working with the local telecom to connect the 13 outer islands schools to the internet; negotiating with TCS to redesign their programmes to meet the needs of distance learners of another culture; and training government Ministry personnel and school staff on technical and governance issues relating to the internet as a communication and learning tool.
Maureen joined the Internet Society following her first PacINET in Samoa in 2006 where she met Vince Cerf whose continued support has been a real asset for internet development in the Pacific. She coordinated a PacINET in 2008 on Rarotonga, and joined the PICISOC Board in 2009. She was their Board Chair from 2011-2014 with her main focus being to advocate for global support for affordable and sustainable internet connectivity in the Pacific.
Maureen attended her first IGF as a Fellow with the Diplo Foundation at Hyderabad in 2008, and then was an ISOC Ambassador at Sharm el Sheik in 2009. She helped to coordinate the first Pacific IGF in Noumea in 2011 as well as a number of PacINET meetings and training workshops in various Pacific countries during her term on the Board. She attended previous APrIGFs in Japan (2012) and Korea (2013). In 2014 she was selected as a Pacific participant in a Policy Diplomacy programme organised by the Diplo Foundation. In 2015 she represented the Pacific to work with other Asian NGOs and CSOs to put together and submit the Asia-Pacific WSIS+10 Non-paper to the UN.
She attended her first ICANN meeting as a Fellow in 2010 in Cartegena and became involved in At-Large policy development up until her next meeting in Costa Rica in 2012. She became the ccNSO Liaison to the ALAC in 2013 when she was elected onto the ALAC. Maureen is currently in her second term on the ALAC representing the Asian, Australasian and Pacific Islands Organisation (APRALO). She is a member of the ALAC Leadership Team.
On Rarotonga, she is the President of the Cook Islands Internet Action Group which lobbies government about internet issues and supports IT graduates to undertake projects in their interest areas. She is a member of the Telecommunications Advisory Committee which meets with the Minister to advise him about internet and telecommunications issues.
Maureen's day job is a development consultant mainly working with the Development Cooperation (Aid) Division of the Ministry of Finance. She is the UNESCO Commissioner for Information and Communication. Development projects she have managed were attached to the Office of the Prime Minister (eGovernment), the National Environment Service (Hazardous chemicals) and the Ministry of Internal Affairs (Gender equality and women's economic empowerment). She also worked as a Development Programme Coordinator with the NZ High Commission on Rarotonga.
Maureen has an Advanced Diploma in Teaching, Bachelor of Business, Post-Graduate Diploma in Business and Administration and Master of Management.

Dr. Yong Wan JU
EDUCATION
1990 ~ 1997

Bachelor of International Trade, Hankuk University of Foreign Studies

2000 ~ 2003

Master of Business Administration, Hankuk University of Foreign Studies

2004 ~ 2007
Doctor of Engineering in Computer Science, Soongsil University
PROFESSIONAL EXPERIENCE
1997 ~ 1999

Assistant Researcher, National Information Society Agency(NIA)

2000 ~ 2007

Manager of Technical Research Team and Policy Research Team,
National Internet Development Agency(NIDA)

2007 ~ 2008
Visiting Professor of KIMEP University in Kazakhstan
2008 ~ 2009
Auditor General, National Internet Development Agency(NIDA)
2010 ~ 2015

Director of Internet Industry and Innovation Division and IoT
Innovation Center, Korea Internet & Security Agency(KISA)

2015 ~ 2016

Director of Korea Internet Security Center(KISC), Korea Internet & Security Agency(KISA)

2016 ~

Vice President of Internet Infra Group, Korea Internet & Security Agency(KISA)
Board Member of Korea Mobile Internet Business Association (MOIBA)
Vice Chair of Open Standards and Internet Association(OSIA)
Board Member of Korea Institute of Information Security & Cryptology(KIISC)
Advisory Member of Korea Internet Professional Association (KIPFA)

AWARDS
2002
Minister Award
2016

Presidential Citation

2016

Achievement Award from Korea Internet Professional Association

Mr. LIM Choon Sai (SOI) has been the Advisor to the Singapore Network Information Centre (SGNIC) Pte Ltd since October 2015. SGNIC is the ccTLD Manager for .sg domain names. Prior to his current role, he was the General Manager for SGNIC and the Singapore representative at the ICANN Government Advisory Committee (GAC). He steered the implementation of several key projects, such as revamping the registry operation into a shared registry system with registrars accredited to provide .sg name registration service, launching of second level domain names, implementing dispute resolution procedure, collaborating with government agencies for one-stop service for registration of .sg names by companies and auctioning framework of single character and golden numeric names.
Mr Lim has been elected as the Chairman of APTLD (Asia Pacific Top Level Domain) Board since 2013. APTLD is a regional organization for ccTLDs and holds biannual meetings for exchange of information, views and best practices. The meeting agenda has been revamped to cover more diverse areas of interest to members with a focus to help less developed ccTLDs through fellowship and capacity building training workshops. APTLD ordinary and associate members grow by 2 and 4 respectively to 42 and 13 as of 1 Dec 2016. Mr Lim holds a Bachelor of Engineering from the University of Singapore and an MBA from Brunel University, UK. He is also the recipient of three Singapore National Day Awards for efficient and outstanding performance in the public service and the community work.

Tommy MATSUMOTO (SOI)
GENERAL INFORMATION
Name: Toshifumi (Tommy) MATSUMOTO
Residence: 2-4-1-1007, Sengoku, Koto-ku, Tokyo 135-0015
Telephone: Mobile: 090-3229-1694, Home: 03-3648-2085
Email: tommy-m@tkd.att.ne.jp
Date of Birth
February 18, 1949
Age
59 years old
Marital Status
Married
Children
None
Nationality
Japan
Languages
Japanese, English
EDUCATION
1973
University of Hiroshima
Hiroshima, Japan
BA in Electronics
CAREER SUMMARY
5/2002- Today
T&Y Matsumoto Corporation.
President and CEO
4/1997 – 3/2005
JPNIC (Japan Network Information Center)
Vice presiden
8/2003 – Today
APNG (Asia Pacific Networking Group)
Chairman
1/2004 – 12/2005
ICANN (Internet Corporation Assigned Names and Number)
AtLarge Advisory Committee Member
6/2004- 3/2006
Echelon Japan K.K.
President and CEO
04/2002 – 12/2003
AT&T Communications Service (Japan) Ltd
President
AT&T Wholesale Japan
Managing Director
01/2000 – 03/2002
CONCERT ICS JAPAN
Managing Director
CONCERT JAPAN KK
Representative and President
INET2000 /ISOC
Vice President
08/1999 – 12/1999
AT&T JAPAN
Representative and Vice President
07/1998 – 07/1999
AT&T JAPAN
Director and Vice President
03/1993 – 06/1998
AT&T JENS
04/1996 – 06/1998
Director and General Manager,
Sales Division
JPIX Founder and Board member(1997-1998)
JPNIC Trustee (Board member) (1996)
General Manager
Internet Division
CIX board member (1994-1997)
JPNIC Steering Committee Member (1994)
06/1993 – 05/1994
General Manager
Information System
System Planning Division
04/1993 – 04/1993
Deputy General Manager
Information System
System Planning Division
04/1973 – 02/1993
CJK CORPORATON (current company is ITFOR)
04/1990 – 02/1993
Deputy General Manager
Information System
New Business Development
System Planning Division
04/1980 – 03/1990
Manager
Sales Division
04/1973 – 03/1980

Sales Account Manager
Sales Division

Alireza SALEH (SOI) is currently the CTO of .IR ccTLD Registry with increasing role in management affairs. Saleh has a B.Sc. degree in civil engineering but has been involved in networking technology for the last 13 years. Before taking on his present responsibilities, he was involved in various aspects of the operation of Iranian Academic NETwork. Most recently he has been involved in IDN development for Persian language and Arabic script and is one of the monitors of the current ICANN IDN tests. He is a frequent participant in meetings of IETF, RIPE, ICANN, ITU-T, APTLD and CENTR.

Dr. THAM Yiu Kwok received the B. Math. and M. Math. degrees in computer science from the University of Waterloo, Canada, where he studied formal languages and parallel rewriting systems, and Ph. D. in computer science from the University of Toronto, Canada, where he performed simulation and queuing analysis of integrated voice and data communication systems. He developed scheduling algorithms for satellite communication at Telesat Canada, and worked in various areas of telecommunication with GTE Spacenet and Telstra Research Laboratories, where he investigated network design under volatile conditions; he held academic and research appointments with the National University of Singapore and pioneered the development of prototype cross-language remote procedure call systems at the Institute of Systems Science, National University of Singapore. Before returning to the Far East, he was Visiting Professor at the Department of Telecommunications and Mathematics, University of Karlskrona/Ronneby, Sweden, where he performed research on ATM network design besides acquiring basic proficiency in Swedish. He was Lingnan Foundation Visiting Teaching Scholar at the Department of Information Systems, Lingnan University, Hong Kong before heading up the Computer Service Bureau at the University of Macau, Macao. He is now an Invited Associate Professor with the Faculty of Science and Technology at the University of Macau, and a member of the Technology Accreditation Committer in Macao advising its Accreditation Authority on the operation of electronic document and signature.
DotAsia Advisory Council
The Advisory Council advises the Board on all policy matters. The Advisory Council is constituted based on appointments from Co-Sponsor Members (one person per Co-Sponsor Member) in addition to experts appointed by the Board.
Current Advisory Council Members
Izumi AIZU

Khaled FATTAL

(Acting Executive Director AINC)

Prof. Kilnam CHON

(Professor Emeritus, KAIST and Visiting Professor, Keio University)

Leonid Todorov

(General Manager, APTLD)

Hirofumi HOTTA

(Board of Directors, APTLD)

Dr. Kenny HUANG

(Advisor, CDNC)

Ole JACOBSEN

(Secretary, APIA)

SC LEUNG

(Senior Consultant, HKCERT for APCERT)

Phet SAYO

(Senior Program Officer, IDRC)

Gaurab Raj UPADHAYA

(Core Committee Member SANOG)

Paul WILSON

(Director General, APNIC)

Prof. XUE Hong

(Member APRALO)

Sponsor Members shall be organisations in the Pan-Asia and Asia-Pacific region, as defined by ICANN's Asia / Australia / Pacific Region (based on the ICANN Region definitions) that manage and operate any of the country code Top Level Domain (ccTLD) registries in the region.

Vietnam Internet Network Information Center (VNNIC)

Co-Sponsor Members shall be regional-based Internet, Information Technology, Telecommunications, non-profit, NGO or other relevant community organizations in the Pan-Asia and Asia-Pacific region.
No Results Found
The page you requested could not be found. Try refining your search, or use the navigation above to locate the post.

DotAsia invites all interested and relevant organisations to join as a member of the organisation to contribute to its governance and the policy development for the .Asia Registry. For more information on membership and to join the organisation please review the DotAsia Membership Briefing and Application form. [ doc | pdf ].
Other DotAsia Supporters
Other organisations that have sent letters of support for the ".Asia" TLD include:
Other individuals that have sent letters of support for the ".Asia" TLD include:
Letters of Intent
Letters of Intent from Sponsor Members:
Letters of Intent from Co-Sponsor Members:

No Results Found
The page you requested could not be found. Try refining your search, or use the navigation above to locate the post.


DotAsia Annual General Meeting at APRICOT, Fukuoka, 03.01.2015

DotAsia Board Elections 2016 Final Nomination and Results DotAsia Board Elections 2016 Procedures FINAL DotAsia Board Elections 2016 Procedures DRAFT DotAsia AGM 2016, Auckland, New Zealand The DotAsia Board Elections 2016 was held between December 2015...
DotAsia Board Elections 2015 Final Nomination and Results DotAsia Board Elections 2015 Procedures FINAL DotAsia Board Elections 2015 Procedures DRAFT DotAsia AGM 2015, Fukuoka The DotAsia Board Elections 2015 was held between December 2014 and March 2015....
DotAsia Board Elections 2014 Final Nomination and Results DotAsia Board Elections 2014 Procedures FINAL DotAsia Board Elections 2014 Procedures DRAFT DotAsia AGM 2014, Malaysia The DotAsia Board Elections 2014 was held between December 2013 and February...

No Results Found
The page you requested could not be found. Try refining your search, or use the navigation above to locate the post.

Digital Review of Asia Pacific — www.digitalreview.asia — aims to develop an online collaborative space and to facilitate a global community of researchers and writers in using social...
The Food Revolution has penetrated across Asia — www.frd.asia — including Australia, China, Hong Kong, India, Indonesia, Israel, Kuwait, Malaysia, New Zealand, Philippines, Qatar, Saudi...
全港學生撐大運 — www.ugames.asia | www.撐大運.asia — 為支持深圳2011第二十六屆世界大學生夏季運動會,為國家和本地運動員打氣,以及更了解體育運動和發揚運動堅毅精神,香港青年學生動力將組織8000名中學生及大專院校學生,將於大運會期間前往深圳觀看比賽。 世界大學生運動會 (Universiad)...
APRICOT-APAN 2011, Hong Kong — www.apricot-apan.asia — was the first ever joint event of APRICOT and APAN that made it the biggest Internet conference in Asia. The APRICOT (Asia Pacific...
DSF City Dash — www.citydash.asia — is a signature fundraising event of the DIGITAL SOLIDARITY FUND (DSF: http://hk.dsf.asia), which was established by the Hong Kong Council of Social...


DotAsia Becomes First Global Internet Company to Join the Wildlife Friendly® Enterprise Network Supporting Tiger Conservation. DotAsia Organisation, who operates the global ".Asia" Top-Level Domain (TLD) as a not-for-profit ...

Multi-Dimensional Campaign, from Internet Policies to Technologies, Supporting Tigers and Sustainable Development in Asia PDF 2016.01.19 Hong Kong – DotAsia announces today the official appointment of Ajitora (http://www.ajitora.asia) as a Tx2 Ambassador. Tx2 is supported by ...
NameJet, in partnership with RightOfTheDot and DotAsia, is offering a stand-out group of premium 3-4 digit numeric .asia domain names.

The first ever magazine for the booming DNS industry will be launched later this month. IoN magazine – standing for "Internet of numbers" – reflects the massive change and expansion that will see hundreds of new registries and registrars this year alone, as well as the introduction of millions of new ...

HONG KONG, March 19, 2014 – DotAsia Organisation, registry operator of the '.Asia' top-level-domain, announced that it has partnered with NameJet.com and RightOfTheDot.com to auction a series of never-before-released prem...

Inaugurated in 2007, the Asian Film Awards (AFA) celebrates excellence in Asian cinema through the annual presentation of awards to the many diverse talents and films that make up the dynamic film...

NEW YORK / HONG KONG, Tuesday, January 20, 2014 – DotAsia, and Momentum Events have announced that they will be joining forces to create a new domain industry event coinciding with the prominent International ...
Community, Industry & Reverse Prior Rights Verification for New gTLDs - November 18, 2013, Buenos Aires – Namesphere and IP Metro will team up to offer customized Sunrise Clearinghouse services for New gTLDs.
Free Claims Notifications for Trademarks along with Variations in New gTLDs - November 18, 2013, Buenos Aires – Namesphere today announces a partnership with IP Metro to offer enhanced Rights Protection services for...

World's Largest Domain Marketplace Powers Sunrise and Landrush Auctions of One and Two Character .Asia Domains Beginning October 22nd. Sedo, the world's largest domain marketplace and monetization provider, today announced a strategic partnership with DotAsia, the organization charged ...