.Asia: Can you share with us a little about your background?
I am a 2nd generation American. My mother immigrated to America from Laos during the Vietnam War; and my father immigrated to America from Ireland in the 60s.
.Asia: What is your role at Dynadot, what is a typical day like for you?
I am the Vice president at Dynadot. I oversee Marketing, Customer Service and Design departments to promote our products and services, and make sure that we deliver a great customer experience across all of our channels.
.Asia: What is the best part about working with Dynadot?
The best part of working at Dynadot is our team. We have a group of really talented people that I get to learn and work with every day. Together we have fun, and put a lot of hard work into building a company and products that we truly care about and are really proud of. I think that is really special.
.Asia: What does Asian American Pacific Islander Heritage Month mean to you?
To me, AAPI Heritage Month is a great time to reflect and celebrate my Asian heritage and all the family traditions that have made my life so culturally rich. I am very proud to be an Asian American. I think this is a great opportunity for communities to come together and learn about our diverse stories through a more inclusive lens.
.Asia: In what ways does your culture shape your identity?
My mom's side of the family came to America as refugees during the Vietnam war.  Against remarkable odds, they turned that tragic, life-altering event into an incredibly beautiful life here in America. While they had to leave their home behind, they held on to their culture and heritage and imbued their new home with old memories and hopes for the future. I carry their strength, their resilience, and hopes with me.
I grew up around the Lao language, music and most importantly, the food of our Laotian culture. Some of my favorite Laotian dishes are Laab, which is a salad made with ground meat and herbs; and Khao Poon which is noodle soup served with lots of fresh vegetables and herbs.
Our family values and traditions made me who I am today, I hope to continue to honor them and see them thrive from generation to generation.
.Asia: If you were an Austin based traditional Asian dress boutique, what would your .Asia domain be?
I think Traditions.asia is a good one!
Related Asian American Heritage Posts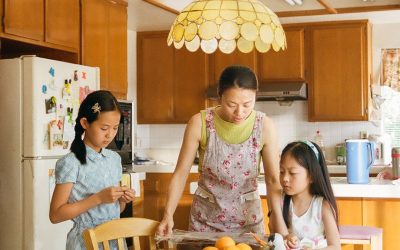 JIEJIE, Mandarin for sister, is directed by Asian-American writer and director Feng-I Fiona Roan. Her film won the prestigious HBO Asian Pacific American Visionary Award in 2018. At its heart, JIEJIE is an Asian American story of first-generation immigration experience from the view of a child. We caught up with Fiona to discuss what it was like growing up Asian-American in both Asia and the US, and her next big project – AMERICAN GIRL.
read more