Asian Americans contribute significantly to the development of small and medium size businesses in the U.S.  In honor of Asian American and Pacific Islander Heritage Month this May, we are dedicating our post to our channel partner Dynadot.com, founded by Asian American tech entrepreneur Todd Han.
Todd started Dynadot, a domain name registrar, back in 2002.  Today, the company has over 2.5 million domains under management, and ranks 2nd among 100 top domain registrars based in the U.S. in terms of overall new-top-level-domain registrations.  Through their dedication to customer service and innovative technology, Todd and his team operates a successful business with a loyal customer base.
I connected with Todd via Zoom from his home office in San Mateo, California.  He appeared relaxed in a hoodie, his Zoom background, low-key, decorated with drawings from his kids.
Leona:  Dynadot has been a friend and a valuable partner to .ASIA for more than a decade. I read that you ran the company by yourself for the first three years!  How did you first start your entrepreneurship journey? 
Todd: I started thinking about Dynadot in 2000, when I was building a website for my mother's vacation house in Mexico. I have a software background, and thought that I could do a better job programing the user interfaces than what was out there.  Then in 2002, I just decided to go for it.  I jumped right in and started running the company by myself, taking care of customer service and website programming all on my own.
Leona: How has Dynadot evolved over the years?
Todd: It really has been an organic process. We made a conscious decision not to procure any venture capital or private equity.  The profits we make are reinvested back into the business.  I started Dynadot out of my house, we now have over 60 people globally in the team.  We are headquartered in San Mateo, opened our second office in Toronto, Canada, then our third office in Beijing, China.
I would say most of our growth is also organic, from word of mouth.  Bit by bit, our team developed a positive reputation within the domain investor community because we offered competitive pricing on domains and emphasised on building a solid control panel.  These are things that are still important to our investor customers because they own large portfolios of domains.  On the retail side, we've focused on having quality website builders and email solutions.
Leona: With three offices in three different time zones.   What's your secret in attracting good people to work for you?
Todd: I don't think we have a secret recipe.  When we come across terrific people with good fit, we try our best to hang on to them.  And on the flip side of that, we are decisive in letting go individuals that are not compatible with the team and our company culture.  I try to treat people fairly, but have high expectations.
Leona: You've graduated with honors from UC Berkeley in Electrical Engineering and Computer Science.  And later also earned a master's degree in Computer Science from Stanford University.  Have you always wanted to be a tech entrepreneur?   What did you do before Dynadot?
Todd:  My first job was a software engineer for a Startup that's no longer around.   I've always loved computers and enjoyed programing.  When I was in seventh grade, we had these Radio Shack black and white computers in our school.  As far as computers go, they were pretty primitive,  no graphics, all text based, but I was hooked.
After completing my Master's program I took couple years off, programed a few websites for fun, and started Dynadot fortuitously.
Leona:   What advice(s) would you give someone who's searching for memorable and brand-able domains for their business today given the volume of choices out there. 
Todd:  I think a lot of people still don't know about the new gTLDS.  I would encourage everyone to consider them.  You can get a lot more precise and shorter names than the likes of .COM.  For example, .ASIA is a great string, especially if you're targeting the younger generation, they are all very much aware of the new domain extensions out there.  A lot of companies have websites for different region of the world, which makes a lot of sense. If you're selling into Asia, you would want that website to support another language for example.  For us, we currently use Dynadot.asia as a gateway to our .ASIA product page.
Leona:  You have a very unusual and unique business philosophy.  On Dynadot's About Us page, you write, "in an industry where companies appear and disappear frequently. We plan to operate and grow this business for a long time, and we do not intend to go public or become acquired by a faceless corporation."  How do you see the future of Dynadot?
Todd:  I believe a knowledge-based company should be owned by its employees.  Because the whole company is in the brains of your employees.  It's one thing if you're a car manufacturer, let's say, and you have a lot of capital expenditures and facilities costs.  That kind of business you need additional investors and capital, but for a software company like us, I don't think we need a massive amount of capital.  Our most valuable assets are the knowledge and expertise of the people that work with me.  I just feel the people that run the company should own it too.
Philosophically, I think the near zero interest rate that we've been having for the past ten to fifteen years has given some people access to vastly cheap capital, which has in turn given them huge advantages over everyone else.  I find this unfair, and I don't want to support that.  I'd like to see the people who created the wealth (through their work) to actually have a claim to it.
Leona: How are you and your team navigating the COVID impacted work life?  Has the pandemic created temporary or lasting change in your business? 
Todd: We went full remote since last April in North America, but we are still keeping our offices.  Going forward, we won't require our employees to come in everyday.  But I feel we still need to keep the offices because it's really hard to do product design remotely.  I still believe it's best to have everyone in a room, in front of a whiteboard, for more effective communication when it comes to designing product features.  I'm very involved with product design.  Management and product design are probably the two things I will continue to focus on going forward.
Leona:  You were born in Taiwan, and immigrated to the U.S. with your family when you were four years old.  How did growing up Asian American intersect with what you believe and helped you in your journey as an entrepreneur?
Todd: My parents had very high expectations for my brother and I.  Education was very important to our family, probably the top priority they had for me growing up.  And so I worked very hard at school.  I went to Palo Alto High School, which is one of the top schools in California, and I graduated 3rd in my class.  Looking back, it was pretty difficult and took a lot of sacrifices.
My parents also had to work extremely hard to afford a home for us in Palo Alto.  When I was going to school, there were not a lot of Asians at all.  I didn't have any role models that looked like me, which made me feel inadequate in some ways.  On top of that, I was a first generation immigrant, which made me felt like an outsider, not fully American.  And so, I compensated by working harder, being tougher and grittier.  And in the end, I believe it made me a stronger person.
I would say my background gave me the grit and perseverance to succeed as an entrepreneur.  There will always be mistakes and obstacles that come up when you're running a business.  My upbringing taught me how to recover and recuperate from setbacks.
My wife and kids are now a big part of my journey.  For me they are my refuge, something I can always count on, no matter what's happening at work.  It's always nice to unplug and hangout with them.
Leona:  It's been fun getting to know you better, Todd.  Lastly, from one twin parent to another, any hacks for raising twins you can share? 
Todd:  Raising twins is a lot of work, more than twice the work of a singleton I'd say!  My wife and I don't put a lot of pressure on the kids in terms of schooling.  The world has changed so much, and I don't think straight academics is the way anymore.  I want to encourage them to find their own passion, so I give them a lot of space.  I hope they find a hobby or sport that they love and excel at it.  And I think to do that they need space.
When I was a kid, I didn't have time for anything other than studying, which I think set me back a bit.  It wasn't until after college that I took couple years off that I became an entrepreneur and started Dynadot.  So, my advice would be give your children time and space to forge their own path.  I would also say it's important to develop an understanding of yourself, and of other people.  In addition, the value of hard work and developing grit is super important.
There is one thing that's non-negotiable in our household, and that is they have to learn Chinese.  I teach them myself.  Being multi-lingual has been essential in being able to respond to opportunities and expand my business to up and coming markets in Asia.
Related Asian Pacific American Heritage Posts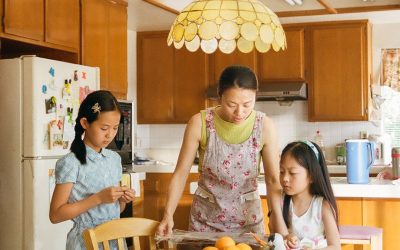 JIEJIE, Mandarin for sister, is directed by Asian-American writer and director Feng-I Fiona Roan. Her film won the prestigious HBO Asian Pacific American Visionary Award in 2018. At its heart, JIEJIE is an Asian American story of first-generation immigration experience from the view of a child. We caught up with Fiona to discuss what it was like growing up Asian-American in both Asia and the US, and her next big project – AMERICAN GIRL.
read more