.Asia: Can you share with us a little about your background and where you are based?
I was born in India, and we moved to Canada when I was 3 years old. I have lived in Toronto ever since. My heritage is Bengali, my mom is from Kolkata and my dad is from Kharagpur.
.Asia: What do you do and what projects are you working on now?
I'm a marketing and sales leader in the Internet technology industry. I was previously the Head of Registry Services at .cloud. I was on the original team that launched the .cloud domain in 2016, and I went on to lead the go-to-market strategy for expanding into the Chinese market.
Currently, I'm on a break from full-time work to refresh my mind, body, and spirit (highly recommend this to others). During my break, I started a coaching practice to help support women leaders with their careers and businesses. It has been one of the most rewarding experiences of my life and I plan to keep doing it even after returning to full-time work.
I started the practice because I know from my personal experience how important it is to support, elevate and empower women because we don't always get as much mentorship, coaching and recognition as our male counterparts. As well, feminine aspects of leadership such as collaboration, compassion, communication and relationship building, are often under-valued. I truly believe that women-to-women mentorship is vital in developing the next generation of empowered leaders.
.Asia: What is / was the best part about working with the Domain name industry?
It's definitely cool to be working within the infrastructure of the Internet and that's what originally drew me in. I've been working in the industry in some form or another since 1998. However, I would say it has to be the international exposure and the people. Working with partners and colleagues from all over the world, working in different countries, and being immersed in a deeper international experience, these are the most memorable parts. Especially dear to my heart, are my experiences working in Asia where I felt very welcomed and connected.
.Asia: In what ways does your culture shape your identity?
In some ways, I abandoned my culture when I was young because I was trying so hard to fit in. My parents were, and still are very cultural. Growing up, there was always Indian music playing, our house was full of Bengali literature, my Dad's hero was poet Rabindranath Tagore, and he also loved the films of Satyajit Ray. I was surrounded by culture and yet I couldn't fully embrace it at the time.
I think I have always had a desire to connect with my Indian heritage on a deeper level. In my later years I rediscovered my Indian heritage through yoga, meditation, and Indian philosophy. When I travel to India now, I feel a deep connection to the land, the people, and my ancestors. From that perspective, my culture has taught me that the greatest gift we have is to really know ourselves, to explore our minds and our consciousness, to live intentionally, to see the highest potential in ourselves and others, and to continuously evolve. I think the appreciation for where I come from, my parents, and the lives of my ancestors (even if I don't have a lot of intimate experience with them) gives me a level of deep respect, curiosity and humbleness for the journey of life.
.Asia: If you were a Toronto based Asian Fusion Eatery, what would your .Asia domain be?
I think it would be Decadenceof.Asia to celebrate the richness of Asian food, culture and heritage!
Related Asian American Heritage Posts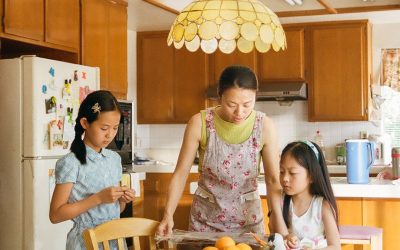 JIEJIE, Mandarin for sister, is directed by Asian-American writer and director Feng-I Fiona Roan. Her film won the prestigious HBO Asian Pacific American Visionary Award in 2018. At its heart, JIEJIE is an Asian American story of first-generation immigration experience from the view of a child. We caught up with Fiona to discuss what it was like growing up Asian-American in both Asia and the US, and her next big project – AMERICAN GIRL.
read more