.Asia: Can you share with us a little about your background?
Hi, my name is Tommy Ho.  I was born in South Korea and grew up in NYC where I'm still based.  I spent time living and working in Korea and had so many memorable experiences.  I felt closer to my roots through this immersive experience, and hope that I left a lasting impact on those I still kept in touch with over the years.
.Asia: What is your role at GoDaddy, what is a typical day like for you?
My role at GoDaddy is managing registry partnerships. Based in NYC, a typical day starts with meetings with our product team in Europe planning new domain launches; then by lunchtime, our teams on the West coast join the back and forth.  By evening Eastern time, I'll wind down after updates with Australia and partners in Japan.
.Asia: What is the best part about working with GoDaddy?
The best part is the people! Both at GoDaddy and the partners that make it all work in domains.
.Asia: What does being Asian American mean to you?
Asian American heritage is about inclusion.  It's a description that cuts a wide cloth across a vast array of cultures and peoples, and it's important to celebrate the similarities and differences.  I see that diversity represented within GoDaddy's Employee Resource Group (ERG), and GoDaddy Asians are growing.  Especially during these unpredictable times, our sense of belonging that we feel through our groups helps to boost mental and physical health.
.Asia: What is the best piece of advice your Asian parents gave you?
From my Korean parents, probably the best advice they've given me was how they modeled their hard work ethic and turned that into success for themselves and our family.
.Asia: If you were a New York City Chinatown shop owner, what would your .Asia domain be?
It would be PearlPaint.Asia. Well, it's gone now, but there was a large multi-story art store on Broadway in Chinatown called Pearl Paint. The red and white awning was painted the length of the four stories and it was unmistakable.
Related Asian American Heritage Posts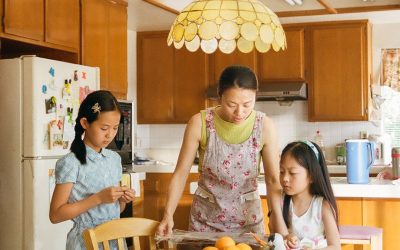 JIEJIE, Mandarin for sister, is directed by Asian-American writer and director Feng-I Fiona Roan. Her film won the prestigious HBO Asian Pacific American Visionary Award in 2018. At its heart, JIEJIE is an Asian American story of first-generation immigration experience from the view of a child. We caught up with Fiona to discuss what it was like growing up Asian-American in both Asia and the US, and her next big project – AMERICAN GIRL.
read more