.Asia: Can you share with us a little about your background?
Sure, I am an immigrant from Guilin, China. In 2010, I moved to the U.S. for grad school. After graduating from Kansas State University (Go Cats!) I moved to Oregon and have been living in Portland for the last 9 years.
.Asia: What is your role at Porkbun?
I joined Porkbun Registrar full-time around 2017. My primary role is Partnership Management. I also help with hiring, internal communications, marketing, accounting, etc.
.Asia: How did you get involved with the domain industry?
I stumbled onto this industry (hello, universe:) and realized it's a whole hidden world that people don't usually talk about. We use the internet every day, but we never really think about the people and the companies providing the domain names, email services, and security… In the last few years, I have had the opportunity to work with many registries, made friends, and found allies. It has been an important part of my personal growth.
.Asia: How has it been like settling in the U.S.?
Coming to America and building my life here has been an amazing experience, but also one with its own challenges. I've made many great friends here, and I'm looking for ways to give back and share my views, my experience as a Chinese immigrant; and my understanding of a life that is enriched by history, perspectives, and values from both continents (Asia and America).
.Asia: In what ways has your culture shaped your identity?
I am proud of my immigrant and Asian identity. One of the biggest challenges for me living in the U.S. has been learning to navigate a society that puts a lot of value on individualism. Coming from a family-and-community oriented society, it has given me a lot to think about, especially in the last few years. Don't get me wrong, I have a great appreciation of individualism and am a big advocate for independence. However, I do believe extreme individualism can undercut what makes America great. I have been involved in creating and building communities and groups of belonging. I think this is how my culture shaped me: embracing individualism while centering on community.
.Asia: I know in addition to working with Porkbun, you are a Diversity, Equity, Inclusion, Accessibility (DEIA) advisor. What's your take on the "Model Minority" stereotype?
The Model Minority myth is a made-up concept from the 1960s. It assumes that Asian Americans have achieved success in the United States. It is biased and, in my opinion, profoundly harmful because it washes away Asians and Asian Americans' economic and political struggles.
This is something I speak out very passionately about because the "Model Minority" notion propagates inequality and marginalizes the AAPI community. It makes Asians and Asian Americans invisible because the assumption is that "Asians have made it". In fact, Anti-Asian Hate has risen significantly since the pandemic, and America has been paying the ultimate price of human lives.
.Asia: What advice do you have for the AAPI community?
Find your community, find your voice. The internet is a great tool when it comes to organizing and coming together. Whether it's sharing your experience on your own website (maybe on a .Asia domain) or amplifying requests for a better, safer, and more equitable environment via social media, I would say find and help build your local AAPI community.
Two of my favorite organizations to follow are:
Stop AAPI Hate: https://stopaapihate.org/
Asian American Advocacy Fund: https://www.asianamericanadvocacyfund.org/
Related Asian American Heritage Posts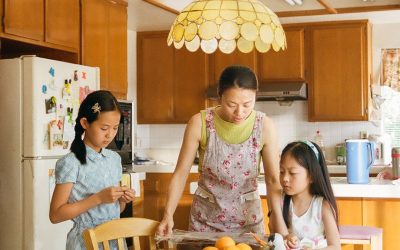 JIEJIE, Mandarin for sister, is directed by Asian-American writer and director Feng-I Fiona Roan. Her film won the prestigious HBO Asian Pacific American Visionary Award in 2018. At its heart, JIEJIE is an Asian American story of first-generation immigration experience from the view of a child. We caught up with Fiona to discuss what it was like growing up Asian-American in both Asia and the US, and her next big project – AMERICAN GIRL.
read more